Automatic Pouch Shampoo Packing Machine
Automatic Pouch Shampoo Packing Machine
HI-TECH

China

10-35 days

50 pc / month
Double rows vertical automatic high speed automatic pouch shampoo packing machine can packing 2 material A & B (such as shampoo + conditioner) at the same time. Suitable for liquid materials to achieve particular 1+1 packing model. Can also filling same materials in two bags to double the production speed.
The automatic pouch shampoo packing machine adopts advanced computer control system, can accurately realize two sets of feed device production at the same time, and has middle cutting device. Through the touch screen can be easily set packing size, packing volume, speed and other technical parameters. Single row and double row production can be switch freely.
Automatic pouch shampoo packing machine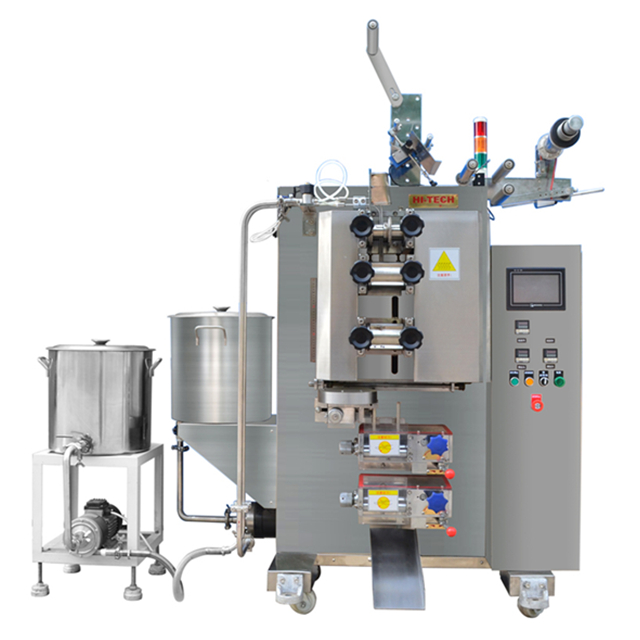 Product Features:
1. Two lanes that work effectively for shampoo, also can packing shampoo & condition ( 1 lanes for shampoo, 1 lanes for conditioner)
2. The machine with GMP standard stainless steel.

3. Computer controller with advanced PLC is a patented product first made in China.The switch power appler is imported. All functions with digital display are performed with buttons.
4. The length is set by the computer needless of the exchange of gear or the adjustment of the bag length.
5. Output automatic report function,and speed automatic display function.
6. With optional ink wheel printing 1 to 3 lines of production number and shelflife.
PEREMETER
Item No

HT-319C

Bag Size

L: 50 - 210mm

W: 30-110mm / 30-150mm / 30-200mm

Packing Capacity

1-200ml

Packing Speed

20-120 bag/min Per Lanes

Bay Type

3 Side Seal, 4 Side Seal

Spower/Voltage

3.8 Kw / 380V

Dimension (L*W*H)

1400*1000*1800mm

Machine Weight

500g